Langley AFB Pix!
The Banquet

My son, pictures of all the nominees located in the rear of Enlisted Club entrance behind the ice sculpture. And the Old Guy.

Ice sculpture located at the entrance to the Enlisted Club.

A couple of my favorite photos. My picture with Chief Master Sergeant of the Air Force, retired, Robert (Bob) Gaylor.
He was MY CMSgtAF when I was active duty. He is now 79 yrs old and still remembered me! He was the keynote
speaker at the banquet. These chevrons are worn by only ONE active duty AF member, worldwide, at any one time.
I WILL CHERISH THIS PICTURE AS LONG AS I LIVE!

Our picture with the 4-star general Commander of the Air Combat Command.

The 2-star general Vice Commander of the Air Combat Command and Tony with the Commander of the 480th Intelligence Wing.

Tony with CMSgtAF, Ret. Bob Gaylor and 8th Air Force Command CMSgt. Todd Kabalan.

Tony's 480th Intelligence Wing Command CMSgt and Squadron Commander from Beale AFB. Tony shakes hands with another Nominee.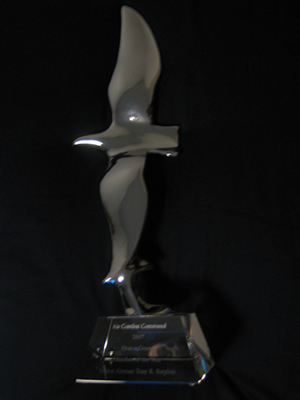 Tony's Air Combat Command Honor Guardsman of the Year trophy.




page 1 &nbsp(Arlington/DC)
page 2 &nbsp(F-22/AC Carrier)
page 3 &nbsp(Banquet)